Your First Resource When Purchasing UN Bulk Bags
Read this guide before purchasing UN bulk bags!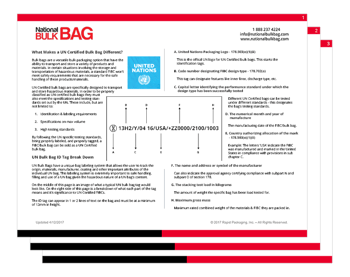 In certain situations involving the storage and transportation of hazardous materials, a standard FIBC won't meet safety requirements that are necessary for the safe handling these products/materials. Transporting and storing hazardous materials presents unique challenges as well as stricter regulations. These increased regulations as well as the hazardous nature of the products being stored and transported require a specialty FIBC product, UN Certified Bulk Bags.
Download our Buyer's Guide to UN Bulk Bags and learn all you need to know about purchasing UN Certified Bulk Bags. By downloading, you'll get access to:
What makes a UN certified bulk bag different?
UN Bulk Bag ID tag break down
UN Bulk Bag rigorous testing procedures
Access to a comprehensive Hazardous Materials Chart
To gain access to our "Buyer's Guide to UN Bulk Bags" fill out the form on this page!
---

"This buyer's guide tells you everything you need to know about UN Certified Bulk Bags so you can make an informed UN FIBC purchase. We're confident you'll gain the knowledge to help guide your purchasing decision in the hazardous materials industry."
- Laura Heinen, Sales and Marketing Manager